Purchase Order Information
Purchase Order Information
Download W9 for Storyboard That
Download Sole Source Letter for Storyboard That
How to Pay by Purchase Order
Step 1 - Quote
Request a quote for the Education Edition or the Business Edition. Prices depend on the number of users.
Step 2 - Storyboard That is a Registered Vendor
If Storyboard That is already a registered vendor, email your quote to the appropriate department to process a purchase order. The department may go by a different name, depending on your school or business.
Business Office
Purchasing Department
Accounts Payable (AP)
Finance Department
Susan
Step 2 - Storyboard That is NOT a Registered Vendor
We'd love to be your vendor! Email your quote, W9 for Storyboard That, and Sole Source Letter to your business office equivalent.
(Please email orders@storyboardthat.com if your business office requires any additional information, we're happy to help.)
Step 2 - I Have No Idea if Storyboard That is a Registered Vendor
That's ok, we can tell you! Email orders@storyboardthat.com to check if Storyboard That is a registered vendor for your district or company.
Step 3 - Business Office Processes PO
Your business office can create the right document.
Step 3a - You Send Us Your PO
You or your business office then sends the PO to us via email, fax, or mail.
Email: orders@storyboardthat.com
Mailing Address: P.O. Box 920504, Needham, MA 02492
Fax Number: 1-857-345-8027
 Clever Prototypes LLC is the official name of the company, but we do business as (DBA) Storyboard That.
Step 3b - You Upload Your Own PO
We offer the ability to upload a PO to your account and submit it for processing.
Go to Manage Subscription

Select the subscription you would like and click Buy Now
Click Pay With Purchase Order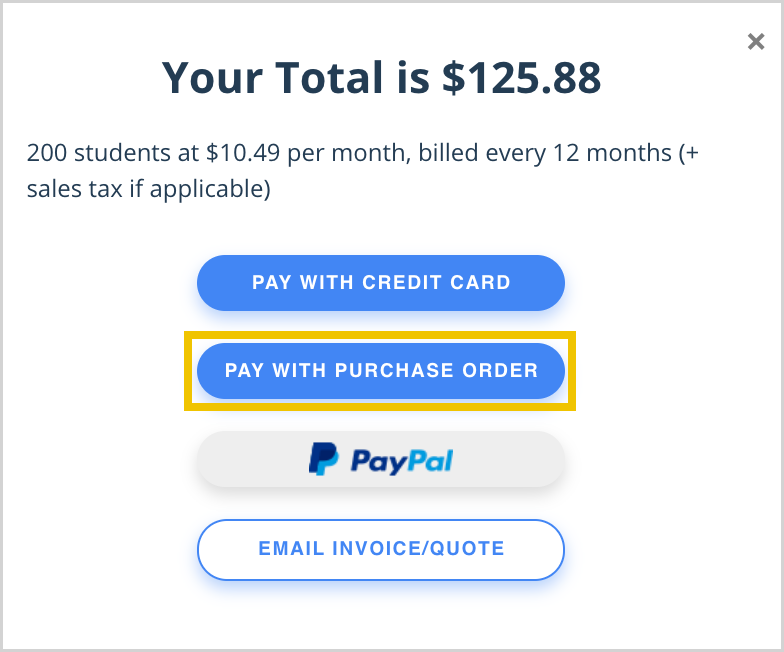 Click Upload PO Now and select the file from your computer
Click All Set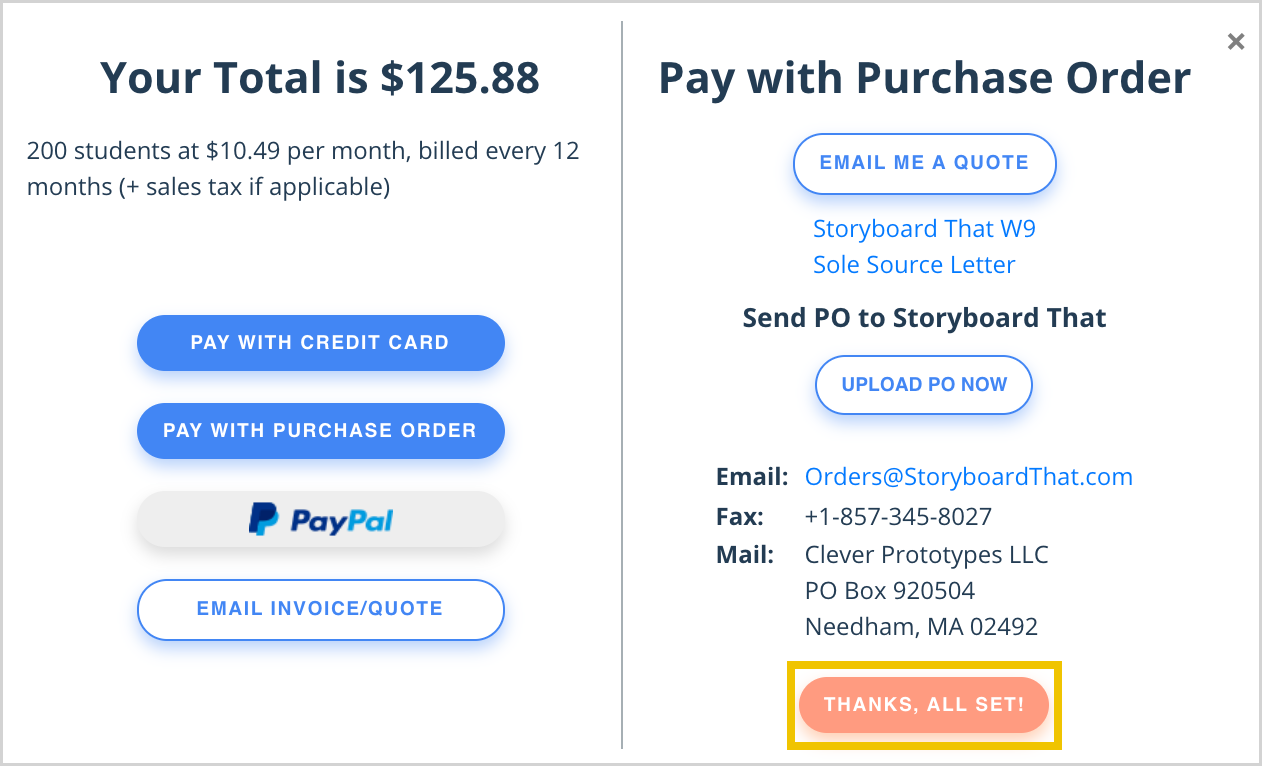 Step 4 - Set Up Account
After we have received the purchase order, we will either create an account for you, or update the details of your existing account. We will also send you some information to get you started!
Step 5 - Start storyboarding!
Create amazing things!
If you have any questions, reach out to us at support@storyboardthat.com or 617-607-4259.